Product Summary
The BTS555 is a N channel vertical power FET with charge pump, current controlled input and diagnostic feedback with load current sense, integrated in Smart SIPMOS chip on chip technology. Providing embedded protective functions. The applications of the BTS555 include Power switch with current sense diagnostic feedback for 12 V and 24 V DC grounded loads, Most suitable for loads with high inrush current like lamps and motors; all types of resistive and inductive loads, Replaces electromechanical relays, fuses and discrete circuits.
Parametrics
BTS555 absolute maximum ratings: (1)Supply voltage: 40 V; (2)Supply voltage for full short circuit protection, Tj,start = -40 to +150℃: 34 V; (3)Load current: self-limited A; (4)Load dump protection VLoadDump =UA +Vs, UA =13.5V, RI =2Ω, RL =0.1Ω, td =200ms, IN, IS= open or grounded; (5)VLoad dump: 80 V; (6)Operating temperature range: -40 to +150 ℃; (7)Storage temperature range: -55 to +150 ℃; (8)Power dissipation (DC), TC ≤ 25 ℃: 360 W; (9)Inductive load switch-off energy dissipation, single pulse Vbb =12V, Tj,start =150°C, TC = 150°C const., IL = 20 A, ZL = 15 mH, 0 Ω: 3 J; (10)Electrostatic discharge capability (ESD): 4.0 kV; (11)Current through input pin (DC): +15, -250 mA; (12)Current through current sense status pin (DC): +15, -250 mA.
Features
BTS555 features: (1)Overload protection; (2)Current limitation; (3)Short circuit protection; (4)Overtemperature protection; (5)Overvoltage protection (including load dump); (6)Clamp of negative voltage at output; (7)Fast deenergizing of inductive loads; (8)Low ohmic inverse current operation; (9)Diagnostic feedback with load current sense; (10)Open load detection via current sense; (11)Loss of Vbb protection; (12)Electrostatic discharge (ESD) protection.
Diagrams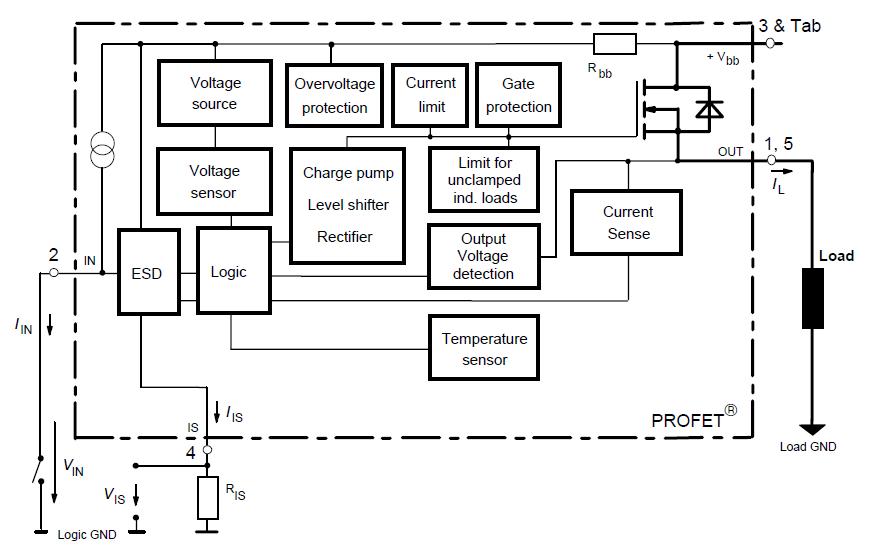 Image
Part No
Mfg
Description
Pricing
(USD)
Quantity

BTS555

Infineon Technologies

Power Switch ICs - POE / LAN Smart Highside High Current Power Switch

Data Sheet

Negotiable

BTS555 E3146

Infineon Technologies

Power Switch ICs - POE / LAN Smart High Side High Current PROFET

Data Sheet

Negotiable

BTS555E3146XK

Infineon Technologies

Power Switch ICs - POE / LAN PROFET SMART HI SIDE HI CURR PWR SW 62V

Data Sheet



| | |
| --- | --- |
| 0-136: | $4.42 |
| 136-500: | $3.71 |
| 500-1000: | $3.23 |
| 1000-2000: | $3.11 |